Everybody wants radiant and rejuvenated skin. Rejuvenating means restoring an original state or a new state. Skin rejuvenation refers to anything that can improve the appearance of the skin and helps restore the changes or damages caused due to the effects of sun exposure, aging, stress, and other detrimental changes which affect our skin over some time. Skin radiance is a very wide term that can mean different to different individuals but a healthy rejuvenated well taken care of skin always looks radiant and bright. Thanks to modern science and technology, there are a wide variety of skin rejuvenation procedures available these days which can surely improve the tone, texture, appearance, and youthfulness of our skin. Our trained doctors provide trustedSkin Brightening Treatments in Chandigarh.
Photofacial
A photo facial means a facial done with light. It's the most modern cosmetic procedure wherein pulses of intense light are used to rejuvenate and refresh the skin, giving that nice glow, radiance, and refreshment to your dull, blotchy, and tired skin. It's a 30-minute procedure in which intense pulses of light are used to penetrate deep into the skin. This photorejuvenation then causes collagen and blood vessels below the epidermis to constrict, reducing redness and age lines. The procedure involves minimal or no discomfort, while the redness and swelling that sometimes occur after treatment disappear very shortly.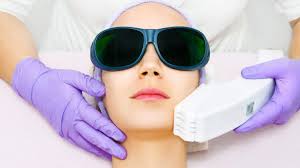 Most benefits of a photo facial occur gradually in the weeks following treatment but few patients notice even an immediate fresh radiant skin which lasts for 1 or 2 weeks which makes it an ideal procedure to be taken right before any important occasion like a wedding or a party. The procedure can be taken occasionally for immediate radiance but for long-lasting results, one must take regular sessions at a gap of around 2 weeks each for at least 6 to 8 times which help cater to many medical conditions like an uneven skin tone, redness, blotchy skin, tanning, freckles, pigmentation, fine lines, and rosacea.
Candidates
People who have blotchy, sun-damaged, or discolored skin, or whose skin is affected by open pores, freckles, or fine lines, may benefit from an IPL Photo facial. The procedure of skin brightening treatment in Chandigarh is very quick and involves no downtime, making it a convenient option for people with busy schedules. People with all kinds of skin tones can opt for this procedure without the risk of any side effects or skin damage
It is also important for patients to have a realistic understanding of what the procedure can do. When performed on the right person, it effectively improves skin texture, eliminating discolorations, reducing pore size, and minimizing wrinkles and fine lines. If you have rosacea, a condition that causes blotchy redness in the face, you may also benefit from a photo facial. For more serious issues - heavy facial lines and severe acne scars, for example - patients may wish to consider more aggressive treatment, such as laser resurfacing.
Since its a non-invasiveprocedure, it allows doctors to make cosmetic improvements quickly, conveniently, and with very little risk or discomfort.
What to Expect During procedure?
Before the procedure begins, your eyes will be covered with protective eyewear to prevent the bright flashes of light from affecting them. A cooling pack and gel are often applied to the treatment area, both to lubricate the handpiece and to help cool the epidermis during the treatment. Your dermatologist will now apply brief pulses of bright light to the skin through the handpiece
Depending on the size of the area being treated, the procedure may take anywhere from a few minutes to an hour. During the photo facial procedure, you will feel a warm sensation like a light snap from a rubber band. The number of pulses you receive will depend on the size of the area being treated. Following the procedure, your skincare specialist may help you in icing down the treatment area to help soothe any discomfort from the procedure. This is often unnecessary, however, as photo facial treatment causes very little pain.
Recovery Time
The recovery time from a photo facial procedure is often very short, as there is very little damage done to the skin during treatment. One can expect very mild erythema over the face lasting for half an hour to few hours which usually subsides on its own. The side effects of photo facial treatment dissipate within a few hours for many patients. For most of the patients, it's an office hour procedure wherein one can walk in and walk out without anybody even noticing that anything at all has been done with your skin.
The most important things to remember following photofacial treatment are to avoid the sun for several days and to wear plenty of sunblock for at least two weeks. Intense pulsed light therapy can give you excellent results for a year or more, but you must take care to ensure your skin is protected for the first few weeks after treatment.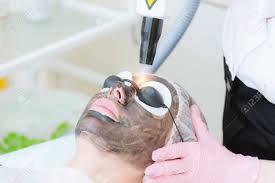 Carbon Laser Facial
A carbon laser facial is a non-ablative laser skin treatment that uses the conductive qualities of carbon to quickly and painlessly exfoliate, cleanse, clear,and tighten pores, brighten and even out skin tone and activate a deeply rejuvenating skin reaction that produces skin that is smooth, plump and radiant!
A carbon laser is a revolutionary, non-invasive, painless skin rejuvenation procedure with virtually no downtime that helps refresh the appearance of aging and damaged skin. The laser carbon peel is a fast and painless procedure done to help improve the look of the skin
It's used primarily by people with oily skin, acne, and enlarged or clogged pores. If you're starting to see the effects of sun damage to your skin, then immediately contact us as we provide the best skin brightening treatments in Chandigarh. This treatment will be beneficial for you.
It gently treats the top layer of skin, leaving an amazing glow with a vibrant, youthful complexion.
Also known as a Hollywood Peel, Black Doll Facial, or Charcoal Facial, this gentle procedure is safe on all skin types. It is a great way to get a quick skin refresher without the longer downtime associated with other laser procedures. It evens out the skin tone, reducing the appearance of pigment, fine lines, and acne scars.
How it works.
A thin layer of medical liquid carbon is first applied to your face, allowing it to penetrate deeply into your pores and let it dry. The carbon particles attach themselves to all the dirt, debris, dead skin cells, contaminants, and sebum that might be present beneath your skin surface
A beam of low intensity Q Switchd ND:YAG laser is passed across the surface of your skin.
Light from the laser is attracted to the carbon particles, which absorb the light energy. The reaction causes a mini-explosion. The explosion pushes the energy, in the form of heat, deep into the layers of the skin where elastin and collagen are activated and cells begin producing new cells and fibres. Meanwhile, on the surface of the skin, as the explosion occurs the carbon is vaporized along with any dirt, oil, or dead skin cells. There's very little discomfort or pain. The sensation has been described as a mild tingling or very slight pinch.
Carbon Laser Facials can rejuvenate your skin by:
Improving the oil balance of the skin
Reducing open and blocked skin pores.
Reducing the signs of premature aging
Improving skin texture and radiance
Reducing fine lines and wrinkles
Stimulating collagen growth for firmer, plumper skin
Reducing oily skin or exfoliating dry skin
Erasing or fading yellow/brown pigmentation
What can you expect?
Your skin will feel immediately smoother and look instantly refreshed. Better still, there's zero downtime! You can return to your daily activities immediately following your treatment – your skin may appear slightly red but this should disappear within a few hours. We recommend you use a good medicated sunscreen and avoid abrasive exfoliates or other invasive skin treatments for a few days.
How long do results last?
It will depend on the condition of your skin, your skin type and your lifestyle.
You'll probably notice results after a single treatment. However, for long-term results, we recommend regular treatments – 4-6 treatments are optimal, spaced 2-4 weeks apart.
Will it hurt?
No! Our skin brightening treatments in Chandigarh are gentle, non-invasive, and painless. You'll probably hear a small pulse as we target the carbon particles in your pores with the laser. Our clients describe the feeling as warm or prickly but not painful.
The procedure. Laser carbon peel is a multi-part process that takes around 30 minutes from start to finish. For this reason, it is sometimes referred to as a lunchtime peel.
Here's what you can expect from a typical laser carbon peel:
Your doctor will spread a layer of liquid carbon onto your face. The carbon absorbs oil, dirt, and dead skin cells from deep within the pores.
You'll wait for about 10 minutes for the liquid carbon to dry.
After the carbon has dried, your doctor will give you eye shields to protect your eyes from the laser.
Your doctor will pass a laser, such as the Nd:YAG, over the skin on a low-energy setting. This heats up the carbon, binding it to the epidermis.
On a higher-energy setting, the laser will be used to fragment the liquid carbon into tiny particles.
A smoke evaporator attached to the laser will remove the carbon as well as the debris and impurities it contains.
Your skin therapist may also apply a hydrating moisturizer and sunscreen to your skin after treatment.
You should immediately see brighter, glowing skin and tighter pores. If you have sensitive skin, you may experience a slight pinking or reddening of the skin. This usually lasts for one hour or less.
Do's and don'ts for laser carbon peel aftercare
Treat your skin gently after getting a laser carbon peel by applying a good sunscreen and a moisturizer daily.
It's normal to see some flaking or experience dryness for a few days,
Use sunscreen regularly with at least SPF 30+ for several days after treatment.
Don't use any products containing retinol for at least five days after treatment.
Do not exfoliate or use any abrasive or invasive skin treatments for at least one week.
Hydrafacial
It's the most advanced medifacial, which is the most sought after skin brightening treatment in Chandigarh, donewith a medical-grade hydradermabrasion device that carries out a patented three-part regimen — cleansing, exfoliating, followed by infusion of the skin with selective serums. This magical 40- to 60-minute treatment would tackle everything from dehydration to discoloration, aging to acne, and uneven skin texture. It's also sometimes called "hydradermabrasion" because it involves microdermabrasion-like exfoliation coupled with the hydrating effect of water and various antioxidant and hydrating serums.
It's a three-step process, which works to deep-clean, exfoliate, and hydrate our skin. This professional procedure may help treat a variety of skin conditions like acne, dull skin, blackheads, excessively oily skin, dryness, and fine lines.The non-invasive procedure is similar in principle to a regular facial you might get from a spa but is said to provide more dramatic results. This is achieved by a mechanized handpiece used on your skin to deeply clean and exfoliate while delivering serums customized to your skin type.
The noninvasive procedure is similar in principle to a regular facial you might get from a spa but is said to provide more dramatic results. This is achieved by a mechanized handpiece used on your skin to deeply clean and exfoliate while delivering serums customized to your skin type.
HydraFacial benefits
Improves overall skin tone.
Improves the texture and appearance of the skin.
Removes the dirt, debris and bacteria
Reduces blackheads and acne formation.
Allows deep cleansing and hydration of the skin.
Gives an instant glow and radiance to the skin.
Improves fine lines and wrinkle if taken regularly.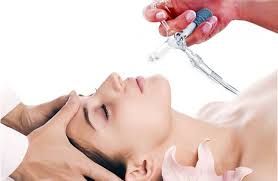 HydraFacial side effects and precautions
There is absolutely no side effect or complication of a HydraFacial procedure.
The procedure can be taken during office hours with no major precautions or post care instructions other than observing little sunprotection as is valid for all the cosmetic procedures.
During treatment one might feel a little sandpaper kind of feeling or you may feel light pressure from the wand during the procedure, but unlike other cosmetic treatments, the HydraFacial never really causes pain or redness.
How does HydraFacial treatment work?
A HydraFacial is performed by either a licensed aesthetician or a dermatologist. The procedure is completed in three parts:
Your provider uses a vortex-like handpiece against your skin to help clear away dirt and oil from deep in your pores. They also use a peeling agent like glycolic acid, salicylic acid or hyaluronic acid diluted in water to help exfoliate and resurface your skin.
Your provider uses a vacuum-like attachment on the wand to help extract debris from your pores.
Your therapist uses a pen-like attachment to apply moisturizing serums like a vitamin C serum with or without other antioxidant or hydrating serums based on hyaluronic acid and peptides depending upon the requirement of your skin.
Immediately after a HydraFacial, you will notice much smoother and radiant skin, possibly with a more even skin tone. The results are said to be noticeable immediately, without any visible signs of irritation.
Aftercare
Each HydraFacial session takes less than an hour, and no downtime is required. Unlike with harsher procedures like chemical peels, you can resume your normal activities right away.
While you shouldn't experience any redness or peeling after your session, it's still best to avoid exfoliating treatments for the first couple of days after a HydraFacial.
The frequency of HydraFacial sessions depends on your skin type and your doctor's analysis of your skin. Commonly its advised to take a session one every 4 weeks or like a pre red carpet procedure where you need an immediate radiance and clearer skin.
Chemical peels.
This is by far the most effective and rewarding procedure in which repeated applications of a chemical solution, such as lactic acid, salicylic acid, glycolic acid, or retinoic acid are applied to your skin for a particular duration followed by neutralization by your doctor. Successive sessions of these treatments improve the tone, texture, pigmentary changes, and superficial acne scars to a remarkable extent. Chemical peel treatment is the most commonly done cosmetic procedure in any dermatology clinic
The procedure can be taken during office hours without any downtime or significant risk factors.
At Dr. Naiya Bansal's skin and laser clinic, we offer the best and most result-oriented chemical peeling treatments which are customized to the need of every individual according to the medical state, skin type, complexion, and various other factors.
Our skin brightening treatment in Chandigarh at Dr. Naiya Bansal's Skin Clinic usually requires multiple sessions at a gap of 2 to 3 weeks each leading to a gradual improvement in the appearance of the skin. One can specifically opt for customized brightening and yellow peels which are also called party peels which help in immediate improvement in the brightness and radiance of your skin. These brightening and yellow peels help to reduce hyperpigmentation, melasma, an d acne scars on the skin and it will immediately brighten the complexion of your skin. Lightning Peels are formulated for darker and combination skin types to give them safe and effective results.
The procedure can be taken during office hours without any downtime or significant risk factors.s
The treatment usually requires multiple sessions at a gap of 2 to 3 weeks each leading to a gradual improvement in the appearance of the skin.
Chemical peels can be taken to improve the tone, texture and pigmentation on any area of the body be it face, neck, back , axillae, hands or even lips.
Chemical peels are used for following indications:
Treat pigmentation issues like melasma , freckles or sun spots.
Dull skin with an uneven skin tone or discolouration.
Acne spots and superficial acne scars.
Signs of ageing like fine lines and wrinkles.
Lip and under eye hyperpigmentation.
Few specific types of peels can treat active acne as well.
Post inflammatory hyperpigmentation
Anyone who is looking for rejuvenated , fresh and radiant skin can also opt for a chemical peel treatment.
A chemical peel is the most commonly done procedure in any dermatology clinic.
Procedure
It's a lunch time procedure which hardly takes 15 to 20 mins of time with little or no downtime as against the name where there is actually little or no skin peeling after most of the peels done these days.
Your doctor will ask you the history of topical applications on your skin before starting a peeling treatment. You might be suggested to discontinue all the retinoid based creams or exfoliants few days prior to the procedure.
The various steps of a chemical peel procedure are as follows:
Your therapist will cleanse your face thoroughly to remove any applications, male up or dirt on the skin surface.
After cleansing , your dermatologist might like to do a little microdermabrasion to remove the excess dead cells over your skin allowing for a better penetration and better radiance, but this step is completely subjective to your dermatologist's opinion and cannot be combined with every type of peel.
Your therapist will apply a layer of the chemical solution to your face which can vary in form to a cream based , gel based or lotion based.
In few peels like retinoid based peels or yellow peels, an activating serum is first applied which actually acts as an activator of the actual peeling agent.
Depending upon the type of peel used, the application time may vary from few mins to 15 mins. During this entire time, your skin is closely monitored by your doctor for any signs of redness, irritant reaction or adverse reaction.
After the desired time, your skin is cleansed again with water or a neutralizing agent to remove the peeling solution completely
A liberal amount of a bland emollient and a sunscreen is applied on the face after the procedure.
Post care after a chemical peel procedure
After a chemical peel, skin is temporarily more sensitive to the sun, so a broad spectrum sunscreen has to be applied once or twice every day.
Limit your time in the sun, especially between the hours of 10 a.m. and 2 p.m., and wear a wide-brimmed hat.
All kinds of unnecessary procedures like a face waxing, bleaching , make up applications or salon facials must be avoided for atleast a week after a chemical peel treatment.
What To Expect After a Chemical peel
Most of the modern day peels have negligible or no down time. A few peels like a retinoic acid based peels popularly known as the yellow peels can lead to mild flaking off of the superficial layer of the skin for 3 to 5 days during which you are supposed to take a good sunprotection.
A chemical peel treatment can be repeated every 2 to 3 weeks depending upon your skin concern and the type of peel chosen for you by your doctor.
An average of 5 to 6 sessions are most of the times needed to have an appreciable improvement in the skin tone and texture .
This Gold Infused Facial treatment helps to deliver a personalized cocktail of PRP, dermal fillers, and botox that will make your skin seriously glow. A gentle stamping method delivers antioxidants, moisturizing ingredients, and even Botox under the skin. This facial is made in such a way to suit all skin types and complexions. These can be used on fine and sensitive skin. It also stimulates the production of collagen, refines the texture of the skin, tightens the pores, and hydrates the skin.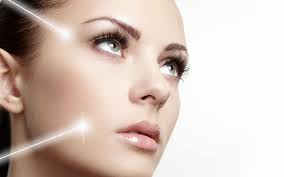 Skin Polishing
Skin polishing refers to a method for enhancing skin composition, acne, spots, and fine lines around the skin. The skin becomes brighter as the dead cells are eliminated. It is a great method for reversing skin damage. Firstly, the face is cleaned thoroughly to make sure that it is free from any makeup or chemicals. Then the use of a microdermabrasion head is done many times around the face. Microdermabrasion is a very subtle and superficial exfoliation of the superficial epidermal layer and dead cells of the skin which is done with the help of a mechanical device. It leads to regeneration of the epidermis, declogging of the blocked pores , removal of the collected dirt, debris and sebum from the skin surface, thereby
cleansing the skin, reducing the acne formation and also aids in penetration of topical medication, thereby giving fresher appearance and radiant glow to the face and clearer acne free skin for longer duration. the procedure itself is an office procedure which hardly takes 15 to 20 mins time and can be done at a frequency of one a week or fortnight depending upon the condition.
This is performed as it will enable exfoliation to the skin and lighten the scars or marks that are present on the skin. This step would last about 30 to 45 minutes in a single session.
Vampire Facial
A vampire facial is actually a facial rejuvenation technique that uses platelet rich plasma in combination with a microneedling technology. It is an advanced skincare treatment method that utilizes your body's own natural healing and rejuvenating power to provide you an amazing skin radiance and glow. It is called a vampire facial because it involves drawing your blood.
Our blood is made up of four primary components: red blood cells, white blood cells, plasma and platelets.
When the platelets in the plasma are concentrated, a magical concoction is prepared which is rich in various healing agents, growth factors and nutrients .To achieve concentrated levels of platelets in plasma, all four components of your blood are separated, using a centrifuge machine, and a platelet rich plasma is separated.s
PRP facial rejuvenation treatment is used to describe any application of PRP, or platelet-rich plasma, to benefit the body. In the context of anti-aging, platelet-rich plasma is either injected into your skin at specific depths according to your aesthetic needs or the "blood" is spread on top of your face during treatment. Eventually, the PRP is absorbed by your skin. This cuts the recovery time from microneedling down to nothing while speeding along the collagen production process.
Various benefits of a Vampire Facial
1. Increased Collagen Production
After the age of 30 years, our body's collagen building capacity starts declining. It continues to drop at a significant rate for the rest of your life unless we intervene somehow to stimulate its production rate. Moreover, the quality of the collagen produced also drops. All of this results in a visibly unhealthy, lax and tired looking skin.
Whether you're dismayed by fine lines, moderate wrinkles or severe folds or you have other visible skin issues, there's an excellent chance that a vampire facial will enhance the quality of your skin through increased collagen production. Collagen production is stimulated when skin cell trauma occurs. This occurs during a vampire facial when the micro needles penetrate the upper layers of your skin during the microneedling portion of your treatment.
As soon as your skin is penetrated, existing collagen starts to heal the skin. At the same time, your body starts to grow new, stronger, healthier collagen. This higher quality collagen takes a couple weeks to grow. However, you will notice immediate skin tightening. You'll just notice that the results of your treatment continue to improve for several weeks after treatment.
2. Reduced Fine Lines and Wrinkles
Lines and wrinkles are among the most common reasons people seek a vampire facial. These common signs of aging are treated as cellular turnover is promoted. Old skin cells are recycled and new skin cells, collagen and elastin are formed. Fine lines and wrinkles are eliminated in part as your facial skin tightens naturally in response to the micro-injuries produced by treatment. The appearance of deeper folds is also diminished as hollow areas of your face are plumped up.
3. Tighter, Firmer Skin
As stated previously, collagen is also essential for tight, firm skin. As you age, your skin starts to sag, but wrinkles and lines don't always form. Facial skin often thins with age, and certain parts of the face, like the lips and cheeks, are likely to become noticeably thin and gaunt. Collagen plumps up the skin. Some people may use a vampire facial to plump up their lips. Others use it to re-contour their cheeks without the need for an invasive medical procedure. Regardless of your skin insecurities, be sure to ask how a vampire facial can help you achieve your ideal aesthetic.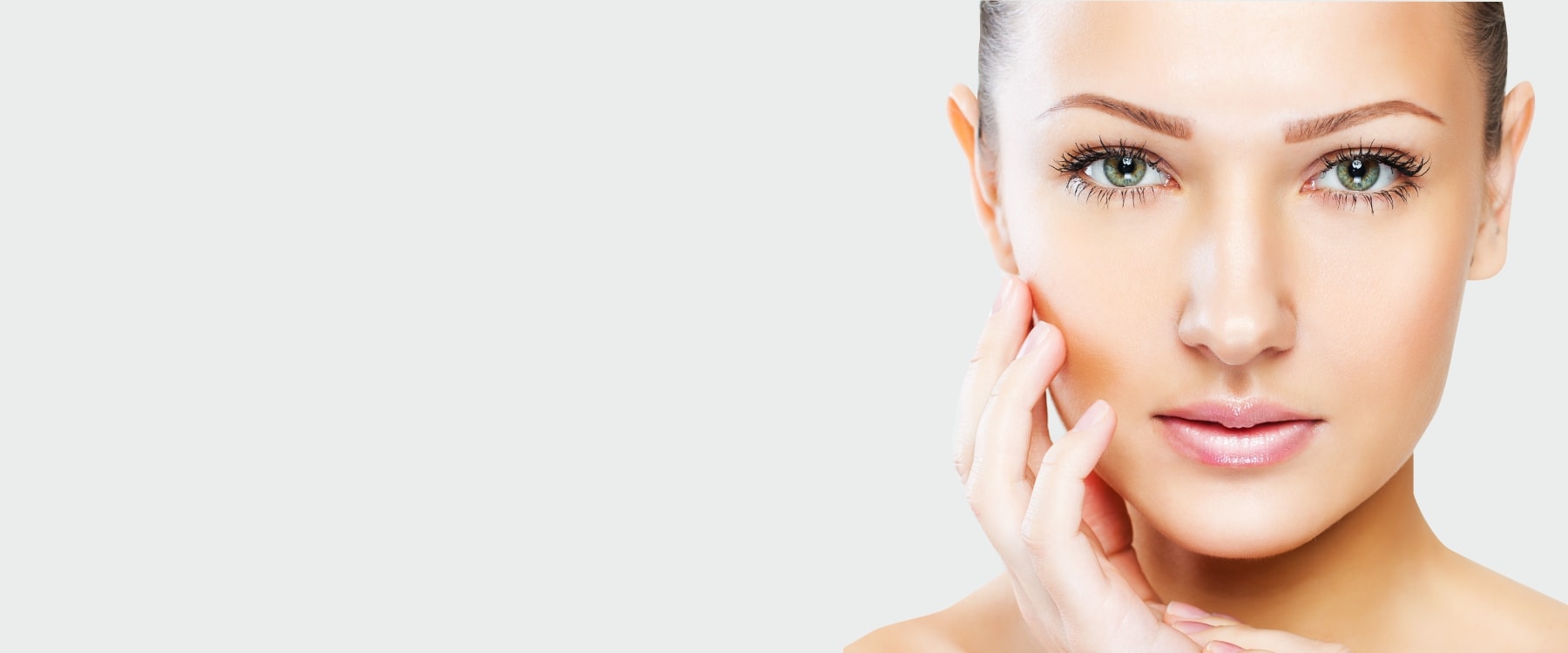 4. Improved Moisture Retention
The stronger and thicker your skin is, the better protected the deeper layers of your skin are from outside irritants. A strong skin barrier also helps to retain moisture. Moreover, it helps to unclog your pores, making your skin more receptive to prescription moisturizers. The effects of a vampire facial on pores are a little confusing because treatment can actually reduce the appearance of pores. However, you can actually benefit from the reduced appearance of pores and unclogged pores, making it easier to absorb prescription medications for the purpose of beauty enhancement.
5. Enhanced Skin Tone and Texture
If you have acne scars, surgical scars, scars from traumatic injury, stretch marks, hyperpigmentation and other forms of poor skin tone or texture, you can benefit from a facial enhanced with PRP. With old skin cells giving birth to new, healthy ones, you will be astounded by the mind-blowing improvement in the appearance of your skin just a few short days after one vampire facial.
6. It Doesn't Hurt
Before your vampire facial begins, your facial skin is gently yet thoroughly cleansed. This ensures there is no dirt, dust, pollen, pollutant, makeup or any other imperfection on your skin that could cause a negative reaction to treatment. Once your personal skin care professional has sanitized your face, he will apply a local anaesthetic to the treatment site. It's true that the thin, delicate skin around your eyes, hairline and mouth is extremely sensitive. Yet while you may feel the treatment being applied, but you will not feel any pain or discomfort.
Even better, it is perfectly safe for you to take aspirin before or after treatment to mitigate the risk of any post-treatment pain. You can also ice the treatment sites to speed the cellular rejuvenation process.
7. Treatment Is Over Quickly
The PRP process may seem like it would take a while. First, your blood has to be drawn into syringes. Then, it has to be placed into a centrifuge and processed. This processing involves cleaning the blood so it is ready for transfer and injection and separating the components of your blood by mass. It doesn't take long at all to draw your blood. Then, it only takes three to five minutes to run your blood through the centrifuge. Finally, the therapy itself only takes between 30 and 60 minutes depending on the size and number of the areas you are trying to treat.
8. Lasting Results
Some anti-aging treatments last only a week or two before you need to receive them again. Contrastingly, you only need to get a vampire facial every year or two to retain your youthful look. Even better, you need fewer treatments with a vampire facial than traditional microneedling to achieve your ideal aesthetic.
While you may need four 30-minute microneedling treatments, which each require an additional half hour of waiting for the anesthetic to start working, you will only need half the number of treatments to get the same results with a vampire facial.
Skin rejuvenation typically takes four treatments, and each of these treatment sessions needs to be spaced four to eight weeks apart. Acne scars can be healed in two to four treatment sessions.
9. No Downtime Is Required
Just as we all want to look younger and want to avoid looking run-down, we don't have time to look any less than our best at all times. With traditional microneedling, you can experience significant redness for five to seven days. With the addition of platelet-rich plasma to your treatment, you can eliminate this downtime. Thanks to PRP, the "micro-injuries" created by the microneedling are essentially healed as quickly as they are inflicted.
Botox Facial
A botox facial utilizes the micro-channels created during a microneedling treatment to deliver a diluted concentration of botulinum toxin deep into skin without effecting the muscle movement. Other microneedling procedures incorporate PRP or stem cell growth factor serums to enhance the wound healing cascade that naturally stimulates collagen and elastin production which creates younger, more rejuvenated looking skin. Botox, however, has the added advantage of a slight tightening of the skin. A botox facial is a great option for individuals who are seeking a non-invasive option to smooth fine lines but are concerned about looking frozen, which can happen as a result of overdone botox. After cleansing the skin and applying a numbing cream, the microneedling device of choice (often a rolling or pen-like system) is then gently moved across the treatment area, creating many, tiny, micro-injuries. The microneedling devices may vary, but the size of the needle is typically 0.1-0.25mm in diameter. There are a number of ways to deliver the botox based serum into the skin. The microneedling device itself may have an internal system that simultaneously delivers the botox into the skin during the collagen-induction therapy, the practitioner may spread the serum over the skin and then perform the microneedling treatment, or the botox serum may be spread over the created micro-channels after the procedure has been completed.
At Dr. Naiya Bansal's skin and laser clinic, we do have advanced gold plated infusion micro delivery systems, which offer almost a painless and direct delivery of all the meso products including Botox concoction into the desired layer of our skin resulting in the best results with the least downtime or discomfort. The goal of a Botox facial is to give patients tighter, younger-looking skin and a more rejuvenated appearance while delivering nutrients to the skin.
The ideal candidate for a Botox facial is someone who wishes to improve the appearance of fine lines or wrinkles. Botox facials are also great for patients looking to try Botox without the fear of the toxin being injected deeper into their facial muscles causing a frozen look.
At our trusted clinic, you can get the most advanced Skin Brightening treatments in Chandigarh and can get relief from your skin problems