Our skin starts aging as we grow old as our body is made up of cells, and aging happens because of dead cells. With age, the repairing power of cells in our body reduces due to which aging happens. To reduce this process or slow down it we offer the best Anti-Aging Treatment in Chandigarh for our patients.
Non surgical facelift / liquid facelift
liquid facelift involves injecting dermal fillers into the skin to plump up the skin. It differs from a surgical facelift in that it doesn't involve cutting into the skin.
The Goal of a Liquid Facelift is to reduce sagging and wrinkles.
Plump up lips
Reduce the hollow areas under your eyes
Fill your cheeks if they look gaunt
Tighten wrinkles around your lips, eyes, and forehead
Reduce the appearance of scars
The ideal candidate for a liquid facelift is someone with relatively few wrinkles and a small amount of sagging. If you have a lot of sagging skin, or if you want dramatic results, a surgical facelift might be better for you.
If you'd like to focus on your face, there are many areas that your dermatologist or might target. These include: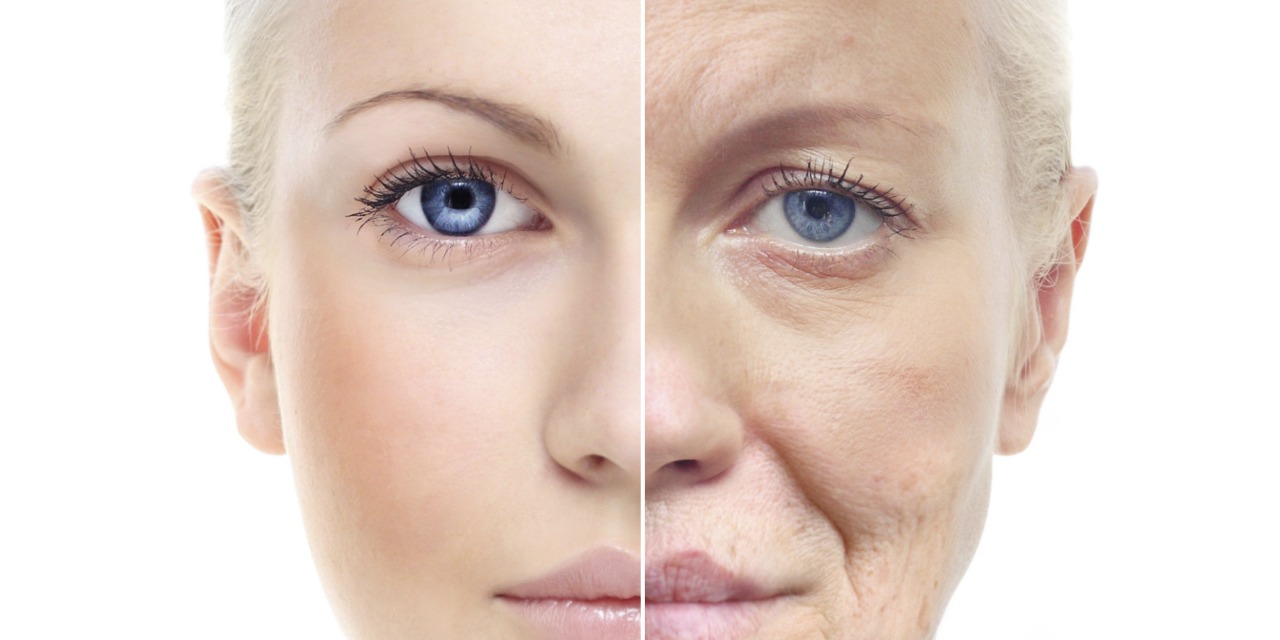 Under the eyes
Near the eyebrows
The cheeks
The temples
The jowls
Folds between the nose and mouth
However, everybody's procedure is different, and the areas that are injected will depend entirely on your desired results.
What to expect after a liquid facelift
You should be able to go back to work the next day. However, you might want to take a little time off if the bruising is bad.
Your dermatologist will advise you on skincare after your fillers. You will probably be advised to avoid strenuous exercise for the next day, and to avoid the sun and tanning beds.
Unless your dermatologist advised you to massage your face, avoid touching the injected areas for at least three days.
The results should be immediate
Depending on the kind of filler used, the results last anywhere between 6 and 24 months. After this point, you might need to get more fillers to maintain your appearance. Speak to your dermatologist about how long your fillers will last, and when you'll need to schedule another procedure.
Thread Lift
Thread lift procedure is a minimally invasive alternative to facelift surgery. Thread lifts helps tighten your skin by inserting medical-grade thread material into your face and then "pulling" your skin up by tightening the thread.
Thread lifts are considered a low-risk procedure with minimal recovery time, but side effects of redness, bruising, and swelling may occur.
This procedure can be performed in about 45 minutes, and, if you want to, you can go right back to work afterward
EfficacyThread lift procedures aren't as dramatically effective as facelifts,Results from a thread lift last from 1 to 3 years. For best results, doctors recommend combining a thread lift with other kinds of anti-aging procedures, such as dermal filler injections
Thread lifts have been around since the 1990sTrusted Source, but innovations in the material used for thread lifts have led to an increase in popularity in recent years.
The typical candidate for a thread lift is in their late 30s to early 50s. A person who is generally in good health and is just starting to notice the signs of aging may benefit the most from the subtle impact of a thread lift.
Those who can't have a surgical facelift because of medical conditions that make general anesthesia risky may consider a thread lift as a safer alternative.
Your forehead, jowls, under-eye area, and eyebrow are all parts of your face that can be considered for a thread lift. You can choose to target just one area or several at once depending upon your primary concern and budget.
you also don't have to consider taking recovery time off from work. Recovery is minimal — it can even be done on your lunch break.
How does a thread lift work?
The thread lift procedure works in two ways.
The first is fairly straightforward. By threading thin, dissolvable sutures underneath your skin, your doctor is able to pull your skin tight around your forehead, neck, or torso.
Invisible, painless "barbs" grab on to your skin and make sure that the thread grips your underlying tissue and muscles as the thread is pulled tight.
Once a barbed thread is inserted, your body's healing response is triggered. Even though you're not injured by the threads under your skin, your body detects a suture material and stimulates collagen production in the affected area. Collagen can fill gaps in sagging skin and restore a more youthful elasticity to your face.
Targeted areas for a thread lift
Many people choose a thread lift for facial areas that "sag" or look less tight over time. These areas include:
Jowls and Jawline
Brow line
Under-eye area
Forehead
cheeks
Thread lifts are also used as a trusted source to lift and tighten breasts, especially after pregnancy and weight loss.
Are there any risks or side effects?
A thread lift is considered a low-risk procedure, but there can be side effects and risk of complications.
After a thread lift, it's not uncommon to experience the following:
Bruising
Swelling
Bleeding
Slight pain at the site of the thread injection
Dimpling at insertion sites.
What to expect after a thread lift
A thread lift is considered an office time procedure with little or no downtime. While there may be some visible swelling and bruising, you can go back to work right away if you'd like.
Results should be apparent right after the threads are put into place, but you may notice more in the days and weeks right after they are inserted, as swelling and bruising starts to subside.
Results from a thread lift aren't meant to be permanent. Successful effects typically last from 1 to 3 years
Micro-Needling RF.
Microneedling is a common aesthetic procedure that Dermatologists have been using for years. It is often also called a dermaroller procedure which uses fine needles to create minute punctures in the skin.
Principle Of MicroneedlingThe micro injuries caused during the procedure lead to minimal superficial bleeding and set up a wound healing cascade with release of various growth factors and also stimulates the activity of various collagen building cells called fibroblasts which eventually leads to collagen remodelling and formation of new blood vessels as well as skin forming cells. The needles also break the old fibrotic strands .
The boost in collagen production helps improve the skin's quality and texture. It also helps the skin to look youthful and fresh by reducing fine lines and wrinkles. The micro punctures also help improve absorption of skin care products in the skin. With the modern day dermapen devices we can select various needle depths according the requirement which may vary between different area of the face from forehead to cheeks. The depth of penetration cannot be pre decided and depends on the size of needles. The depth also depends on the pressure applied and may vary and be customized.s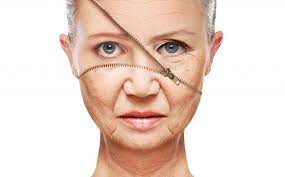 Microneedling with Radiofrequency uses the technique of traditional microneedling to create micro injuries in the skin to stimulate collagen production. These controlled injuries are made by specially designed needles which can also deliver high intensity Radiofrequency energy along these needles to the desired depths of the skin leading to added advantage of collagen building and tightening of the skin and constriction of open pores.
Radiofrequency gives additional benefit of collagen remodelling and helps in delaying signs of ageing.
A typical MNRF procedure requires approximately 3 to 5 sessions at a gap of one month each depending upon the need and indication for which the procedure is being performed.
The benefits of a microneedling procedure over a laser resurfacing are as follows:
Lesser or no downtime A microneedling procedure can be done like an office time procedure which usually has a least downtime, one can expect a mild redness and a little discomfort or swelling for 1 to 2 days at the most. There is no exfoliation of the outer layer of the skin nor is there any visible signs of inflammation for more than 2 days which makes it the most sought after procedure in patients with a busy routine and a hectic lifestyle who cannot afford to take few days off from work to maintain the sun protection and skin care as in a laser treatment.
After care is minimal. One doesn't need to follow strict after care protocol in a dermapen or MNRF procedure as it's a much safer option as compared to a laser treatment, hence requiring least sunprotection in comparison to a laser resurfacing.
Minimal adverse effects.There are absolutely no risk factors involved with either a dermapen or an MNRF procedure as the procedure doesn't damage the outer layer of the skin and is also designed with a controlled delivery of heat energy to the desired depth . Anyone and everyone regardless of the skin colour of skin type can undergo these treatments without any possibility of post inflammatory hyperpigmentation or scarring.
Some of the benefits of the procedure are:
Strengthens Skin's Support SystemOur skin is naturally equipped to heal on its own but with age and exposure to environmental toxins, often the skin's support system weakens. The controlled energy of radiofrequency targets this underlying skin's support system and repairs the damage caused to it. It further strengthens this support system to give a more youthful and glowing skin.
elps Delay The Aging ProcessWhile aging is inevitable, one can definitely delay the process. Microneedling with radiofrequency does just that by reducing the fine lines and wrinkles which are prevalent especially in the eye and neck region.
Tightens The SkinThe gentle heating of the skin stimulates production of collagen and elastin which help tighten the skin.
Improves Skin's TextureThe technique helps lighten scars and pigmentation caused due to various skin concerns like acne. This in turn aids in improving the skin's texture significantly.
Reduction or constriction of open pores
Acne scar improvement.
Most patients will achieve full results with 3 to 4 treatment sessions, spaced about four weeks apart. The number of treatments will depend on how well the patient responds to the treatment and the severity of the skin issues to be addressed.
Benefits of RF Microneedling
RF microneedling can offer similar results to ablative laser procedures, but with significantly less discomfort and downtime. Topical anaesthetic is applied prior to treatment to ensure patient comfort throughout the procedure. Treatment usually takes 1 hour, depending on the size of the treatment area.
Skin is typically red for the first day or two after treatment, but the redness is typically mild and much less than is often seen with laser procedures. There is little or no discomfort after the procedure and patients typically are able to return to regular activities within a day. Makeup can be applied 24 hours after the procedure to mask any residual redness.
Botox (botulinum toxin) Injections
Botulinum toxin popularly known as botox, is an injectable wrinkle muscle relaxer. It uses botulinum toxin type A, specifically OnabotulinumtoxinA, to temporarily paralyze the muscles of facial expression, thereby reducing the dynamic wrinkles or the wrinkles in motion, which in turn reduces the appearance of facial lines. A Botox treatment is a minimally invasive procedure, done in a doctor's office. It's considered a safe and effective treatment for lines and wrinkles on the forehead and around the eyes.
Preparation for Botox Cosmetic
Botox Cosmetic is a quick, nonsurgical, in-office treatment. It requires minimal preparation. You should let your treatment provider know about your medical history, allergies, or medical conditions before your procedure. Your treatment provider should be a licensed physician, a physician assistant, or a nurse. You might need to remove all your makeup and cleanse the treatment area before the procedure. You may also need to avoid blood-thinning medicine like aspirin to reduce the risk of bruising.
Cosmetically, the injectable can be used in the following areas:
The area between the eyebrows (glabellar region), to treat moderate to severe frown lines.
Around the eyes, commonly known as crow's feet lines.
Forehead wrinkles
Botox Cosmetic works by temporarily blocking nerve signals and muscle contractions. This improves the appearance of wrinkles around the eyes and between the eyebrows. It can also slow the formation of new lines by preventing contraction of facial muscles.
It's a minimally invasive procedure, which doesn't involve incisions or general anaesthesia. If you're concerned about pain or discomfort, a topical anaesthetic cream or ice can numb the treatment area.
During the procedure, your doctor will use a thin needle to administer injections of botulinum toxin. Targeted areas can be treated with multiple small pricks in a technical manner.
The entire procedure usually takes approximately 10 to 20 minutes of time.
Post procedure care:
Avoid rubbing and massaging of the treated area as this can lead to unnecessary spread or diffusion of the drug to surrounding areas leading to unwanted side effects.
When being injected between the brows, avoid lying down or bending over for three to four hour to prevent the diffusion of botox under the orbital rim.
There is little to no downtime expected after the treatment. You should be able to resume normal activities immediately in most cases.
It's important to understand possible improvements and have realistic expectations. Noticeable results can be expected within 1-2 days post-treatment. The full effect of Botox Cosmetic typically lasts up to four months. It can also help prevent the return of fine lines through relaxing the muscles.
Dermal Fillers
Dermal fillers , or face fillers are small injections of gel, typically made up of hylauronic acid, that are used to fill in wrinkles and add volume to the soft tissues in our face. Dermal fillers can be used to correct the defects or volume loss in different parts of our face, like around the eyes, cheeks, mouth and jawline, as well as to restore the shape and volume of the lip region.
How do they work?
Fillers basically act by restoring the lost volume to your face and plump the targeted areas, so that the deep-set lines, folds and creases are smoothed out. As we get older our bodies stop producing collagen and elastin, both of which contribute to the youthful look which eventually lead to the sagging of our skin and formation of wrinkles, folds and lines on our face giving that sallow and aged look to our face.
How long do face fillers last?
It depends how your body reacts and which hyaluronic acid is used, but most face fillers will last between six and 18 months. The common indication for dermal filler injections in the face are:
Prominent Tear trough or under eye hollowness: if you have those prominent under eye tear trough or a sunken look in your under eye area, your doctor will inject a very small volume of a specific under eye dermal filler in this area to immediately improve the hollowness beneath your eye region, which does also improve the shadowing effect or the under eye pigmentation concern in most of the cases.
Cheek enhancement : If you're self-conscious about having low or flat cheekbones, you must consider a cheek enhancement procedure done by injecting dermal fillers into your cheek area which can instantly uplift your cheek and mid face area, thereby restoring the lost volume and giving you a natural youthful look almost immediately.
These cosmetic procedures are designed to lift your cheekbones, add volume to your face, and smooth fine lines and wrinkles.
Cheek fillers are injections that instantly raise the volume of the area above and around your cheekbones. This provides the illusion of a more defined bony structure. By injecting volume under your skin layer, cheek fillers can also smooth out wrinkles and fine lines.s
Depending on the type that you choose, cheek fillers can last anywhere from 6 months to 2 years before results are no longer noticeable. The dermal filler material eventually dissolves and metabolizes into your skin tissue.
After the injection, you'll be able to see some of the results immediately. It will take a day or two for the filler to settle into its position on your face.
Compared to other treatment options, such as cheek implants and surgical facelifts, cheek fillers have several obvious benefits:
Cheek fillers can be performed in a dermatologist's office and require little or no anaesthesia.
Recovery for cheek fillers is quick, and many people can go right back to work or their regular activities afterward.
Cheek fillers last for months or years, but the result isn't permanent, so if you change your mind about them, you aren't stuck with the result.
Cheek fillers carry a very low risk of serious complications or infection.
Cheek fillers can be modified after insertion, meaning that you can add more filler to the injection site until you achieve your desired result.
Cheek fillers are less expensive than more invasive plastic surgery for making your cheeks appear more defined.
Lip Enhancement And Shaping
If you ever feel concious of your thin lips or you feel that your lips need more definition or contouring, or that you wish to have smoother and plumper lips, then lip filler treatment is best suited for you.s
Lip fillers are the most popular way to enhance the volume and definition in the lip area. They're minimally invasive and have a quicker recovery time than any surgery. The procedure involves injecting one of several types of fillers into the lips.
As we age, we naturally lose collagen and fat. This leads to thinness and sagginess of the face, including the lips. Lip fillers work by replacing that lost collagen and fat.
Lip fillers work almost instantly to restore a fresh look in your lips without much downtime or complications. Hyaluronic acid fillers can improve the appearance of your lips by adding:
• Shape
• Structure
• Volume

In addition to volume restoration , lip filler injections have few additional advantages as follows:

They even out the asymmetrical lip shapes
Add natural fullness to desired areas
Reduce the appearance of fine lines on the lips and surrounding mouth area
Are customizable based on needs and desires
The effects of a lip filler treatment typically last around six to 12 months.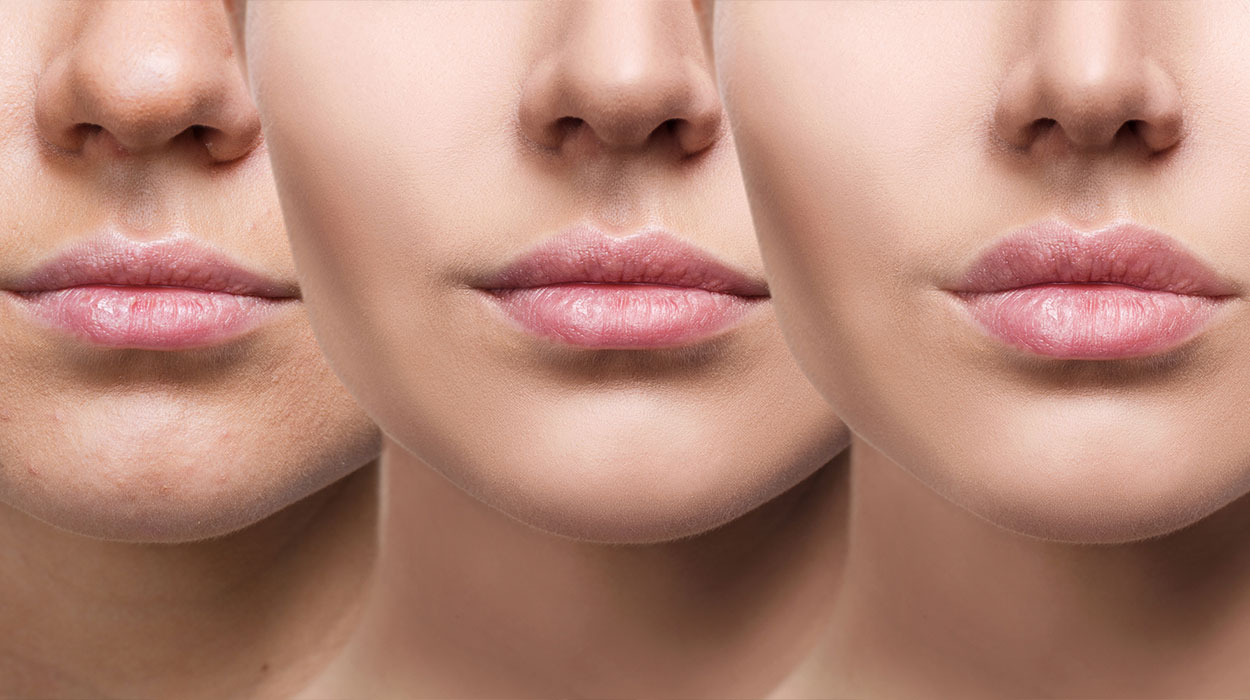 The effects of a lip filler treatment typically last around six to 12 months.
If aging, acne, or too much time in the sun has left your face with blotches, scars, wrinkles, or lines, laser skin resurfacing may help your skin look younger and healthier.
Laser Resurfacing
Laser resurfacing is a facial rejuvenation procedure that uses a laser device to improve the appearance and texture of the skin. The new skin cells that form during healing give the skin a tighter, younger looking surface. The procedure can be done alone or in combination with other cosmetic treatments on the face. It can be done with:
Ablative laser This works on the principle of wound healing wherein a wounding laser is used which removes the outer thin layer of the skin (epidermis) and heats the underlying skin (dermis), which stimulates the growth of new collagen fibres. As the epidermis heals and regrows, the treated area appears much smoother and tighter. This treatment comes with a downtime and requires a proper after care skin protocol to be followed.
Types of ablative treatments include the carbon dioxide (CO2) laser, the erbium laser and combination systems. Both the lasers can be delivered with a fractional laser system, which leaves microscopic columns of untreated tissue throughout the treatment area which helps causing lesser damage, and faster skin healing thereby making the procedure very safe and also help reducing the downtime to the minimum. Fractional lasers were developed to shorten recovery time and reduce the risk of side effects.
Nonablative laserThis is a simpler and less aggressive procedure where non wounding laser is used which stimulates collagen growth, which over a period of time helps improve the skin tone and texture. This approach can be done with various types of lasers as well as intense pulsed light (IPL) devices. Nonablative laser resurfacing is less invasive and requires less recovery time than does ablative laser resurfacing. But it's less effective also. The benefits of non ablative treatments are that these are totally office time procedures with little or no downtime, and also the post procedure care of precautions are very minimal
Laser resurfacing can significantly decrease the appearance of acne scars as well as other types of scars as caused by trauma, burn injury, or scars caused by chicken pox on the face. It can also treat loss of skin tone and improve the complexion if you have scars or sun damage. laser resurfacing does improve the tone and texture of the skin by the help of collagen remodelling which makes it a very effective tool for the treatment of acne scars as well as lines and wrinkles on the face.
It also helps combat the early signs of ageing and photodamage .Laser resurfacing can't eliminate excessive or sagging skin. Understanding the specific techniques, risks and possible results can help you decide if laser resurfacing is right for you.
Laser resurfacing can be used to treat:
Acne scars
Fine wrinkles
Age spots
Uneven skin tone or texture
Sun-damaged skin
Stretch marks
Post traumatic, surgical or even old burn scars
Rhinophyma
The procedure is done after numbing the skin with topical anaesthetic cxream which is left on your skin for around 30 to 40 minutes.
During ablative laser resurfacing, an intense beam of light energy (laser) is directed at your skin. The laser beam destroys the outer layer of skin (epidermis). At the same time, the laser heats the underlying skin (dermis), which stimulates collagen production over time, resulting in better skin tone and texture. Ablative laser resurfacing typically takes between 30 minutes and two hours, depending on the technique used and the size of the area treated.
If you're undergoing nonwounding laser or nonablative laser treatment, a series of treatments is typically scheduled over the course of weeks or months.
After the procedure
After ablative laser resurfacing, the treated skin will be red, raw, swollen and itchy. Your doctor will apply a thick ointment to the treated skin and might cover the area with an airtight and watertight dressing. You may take a pain reliever and use cool compresses. You should expect a crust formation which might last for around 5 to 7 days in modern laser systems followed by renewal with a fresh baby pink skin . New skin usually covers the area in one or two weeks. During this time do not use products that may irritate your face, such as cosmetics and sunscreens. And avoid situations that increase your risk of infection, such as swimming.
After nonablative laser resurfacing, recovery time is negligible.You may have some redness, swelling and discomfort. Use cool compresses as needed. You can resume your normal activities and skin care routine immediately.
Results
After ablative laser resurfacing, your skin might stay red or pink for up to several months. But once the treated area begins to heal, you'll notice a difference in your skin quality and appearance. The effects can last for years.
Results after nonablative laser resurfacing tend to be gradual and progressive. You're more likely to notice improvements in skin texture and pigment than in wrinkles.
Laser resurfacing is not suitable for people with extremely dark skin tone or complexion as there is a significant risk of post inflammatory hyperpigmentation in such patients.
This treatment is used to reduce blemishes, facial wrinkles, and acne. A beam of laser light is concentrated at irregular skin which reduces the dead skin layer by layer. You might tend to see instant effects after the treatment and more improvements would be there up to 12 months, depending on the kind of treatment you are taking.
Double Chin Treatment
Double chin, also known as submental fat, is a common condition that occurs when a layer of fat forms below your chin. A double chin is often associated with weight gain, but you don't have to be overweight to have one. Genetics or loose skin resulting from aging may also cause a double chin. For the treatment of double chin, an acid called Deoxycholic Acid is injected beneath the skin of the chin which melts the fats of the chin and is reabsorbed by the body. It is a minimally invasive procedure that delivers small amounts of fat-dissolving compounds through a series of injections.
It may take multiple small injections of deoxycholic acid per treatment to treat a double chin. You can have up to six treatments total. You must wait at least one month between treatments to gradually see a visible improvement in the double chin.