Dermatosurgery is the surgery of damaged skin, hair, or nails, which is performed by a Dermatologist. We offer some of the best dermatosurgery treatments in Chandigarh in which an examination is done by our trained doctors to know the extent of the damaged area, and the surgery is performed accordingly. These surgeries are mostly minor, non-hazardous, and low-cost and are done under local anesthesia.
Mole Removal
Moles are deep, pigmented birthmarks that are very common, and they can be present anywhere on the body.
Most of the moles can be treated by laser ablation, but few moles when bigger, or when the chances of regrowth are high, these can be removed by a surg ical procedure, in which your dermatologist will cut the mole in-depth and suture the gap created with fine surgical sutures under local anesthesia to give you minimal scarring.
The procedure is almost painless and very quick and there are no complications.
Wart/Tag Removal
Warts are generally caused by an infection called HPV. The usage of an extra amount of keratin is produced rough skin that is formed on the skin. No worries! It can be removed as well, by surgery and also you don't need to worry about anything as it is also a permanent treatment plus a cheap one. If you are worried about how bad a wart looks on your skin you can get it removed.
Surgical Scar Revision
It is a kind of surgery where scars are treated, either they are reduced or removed. This surgery can also correct changes on the skin caused by an injury or poor healing. To some extent this surgery is permanent and scars are reduced, the leftover scars can go away with time. After the surgery, it could take you almost 1 to 2 weeks to heal the swelling and the results are pretty satisfactory.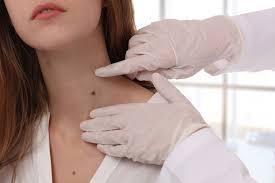 Nail Plate Extraction
Nail plate extraction is a normal surgery performed to remove the extra hard part of your nail, due to some infection. It can be done on the toenails or fingernails. We, at Dr. Naiya Bansal's Clinic, try to make the procedure as comfortable as possible. So, if you are worried about pain, don't be, because you won't feel anything after anesthesia is given.
Stitch Less Earlobe Repair
Stitch-less earlobe repair is a surgical technique to repair the split earlobes without stitches. In this, you won't need to see a doctor again to remove the stitches because stitches won't be there. And don't worry about the pain as your Earlobe will be numb for straight 2 hours or so, till then your surgery will be done. This surgery is also an economical one and with minimal side effects which will subside within a few days.
Punch Grafting For Vitiligo
Punch Grafting is done to cover the unsightly spots of vitiligo. We make small minute punches in the donor area and corresponding punches are made in the recipient area as well. Thereafter, the normal colored skin is placed as tiny grafts over the discolored skin of vitiligo patches which dissipates its pigment for the next few weeks or months leading to improvement in the appearance of the patch.
Cyst/Lipoma Removal
A lipoma or sebaceous cyst can be excised very effectively with a minor surgical procedure under local anesthesia