Hyperpigmentation refers to the appearance of a diffuse or patchy discoloration on the skin, which is darker than the surrounding skin.
Hyperpigmentation is the most common skin condition presenting in most dermatology OPDs after Acne vulgaris.
Few common forms of hyperpigmentation are as follows:
1. MELASMA
2. FRECKLES
3. POST INFLAMMATORY HYPERPIGMENTATION
4. LICHEN PLANUS PIGMENTOSUS
Some forms of hyperpigmentation, including melasma, freckles, and sunspots, are more likely to affect areas of skin that face sun exposure like the face and neck.Other types of hyperpigmentation usually form after an injury or skin inflammation, such as acne, trauma, friction, or skin damage. These can occur anywhere on the body
Although hyperpigmentation is harmless, most people would like to seek treatment for the same due to cosmetic embarrassment.
There is a wide range of treatment options available to treat most of the pigmentation disorders for which you must contact a dermatologist at the earliest possible.
At Dr, Naiya Bansal's Skin and laser clinic, we do offer a wide range of medical and advanced pigmentation treatments in Chandigarh for all your pigmentation concerns.
Cosmetic procedures
Some cosmetic procedures can also lighten areas of skin to reduce the appearance of hyperpigmentation.
Cosmetic procedures for hyperpigmentation include:
Laser therapy
Intense pulsed light
Chemical peels
• Microdermabrasion
People who are considering undergoing one of these procedures should discuss the process and possible side effects with a skincare specialist, or dermatologist.
What is Melasma?
Melasma is the most common form of skin pigmentation in which dark, discolored patches are formed in a bilaterally symmetrical manner on the face.
It's also called chloasma, or the "mask of pregnancy," when it occurs in pregnant women. The condition is much more common in women than men, though men can get it too.
Symptoms of melasma
Melasma causes patches of discoloration. The patches are darker than your surrounding skin tone. It typically occurs on the face and is symmetrical.
Brownish colored patches usually appear on the:
Cheeks
Forehead
Bridge of the nose
Chin
Upper lip area
It can also occur on the neck and forearms. The skin discoloration doesn't do any physical harm, but can be a source of significant cosmetic discomfort.
If you notice these symptoms of melasma, you can contact us at Dr. Naiya Bansal's Clinic immediately for the best pigmentation treatments in Chandigarh. As the condition is pretty much treatable easily in the early stages.
The various treatment option for Melasma are as follows
Your doctor will prescribe you few oral and topical lightening creams to begin with which can improve the pigmentation to quite an extent.
Your doctor will prescribe you a broad spectrum sunscreen lotion or gel as the problem of melasma surely gets worsened with sun exposure.
• There are additional advanced treatment options available for the treatment like

Chemical peels
Microdermabrasion.
Photofacial with an intense pulsed light system.
Laser treatment.
These procedures don't guarantee that melasma won't come back, and some cases of melasma can't be completely lightened. You might have to return for follow-up visits and stick to certain skin treatment practices to reduce the risk of the melasma returning.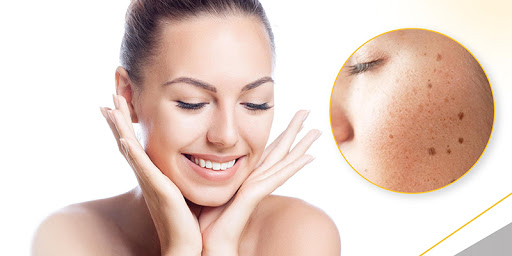 Freckles :
Freckles are small, flat brown spots on your skin, commonly seen in fair-skinned people over sun-exposed areas like the face. In the majority of cases, freckles are harmless. They form as a result of the overproduction of melanin, the pigment which gives color to our skin and hair. Overall, freckles develop due to excessive exposure to ultraviolet (UV) radiation in people who are genetically prone to develop them.
These freckles form as a result of sun exposure and sunburns. They can appear on anyone who doesn't protect themselves from UV rays. They show up on your face, the back of your hands, and your upper body. This type tends to be most common amongst people with lighter skin tones and hair color
Freckles can be a source of grave cosmetic disfigurement if the number of lesions is on a higher side.
Considering their recurrent and relapsing course, the treatment becomes all the more challenging.
At Dr. Naiya Bansal's skin and laser clinic , we provide the best possible cosmetic and laser solutions to treat the unwanted pigmentary issues of your skin.
The various treatment modalities commonly done for freckles are as follows:
Q switched Nd: Yag laser treatment
Exfoliating chemical peels popularly known as yellow peels
Laser facial or photofacial.
Carbon laser facial.
Laser resurfacing / superficial laser ablation.
Uneven skin tone:
Everybody loves to have a perfectly smooth and even skin tone, but very commonly we come across people with varying tones of skin coloration within the face and body. A harmless and very normal skin disorder in which some areas of your skin get darker than the rest, giving an uneven and blotchy look to your skin because of excessive melanin development at a specific region of the skin. Several variables can cause an irregular tone of the skin like
Sun exposure
Cosmetic usage
Genetic predisposition
Post inflammatory hyperpigmentation.
Uneven skin tone can be handled by an experienced dermatologist at Dr. Naiya Bansal's skin clinic with a different approach customized to the needs of every patient depending upon the cause and nature of the uneven skin tone. We offer very result-oriented pigmentation treatment in Chandigarh for uneven skin tone problems.
The various treatments that can help to achieve a flawless even skin tone that you desire for are:
switched Nd: Yag laser treatment
Photofacial
Carbon laser facial.
Chemical peels.
Microdermabrasion or skin polishing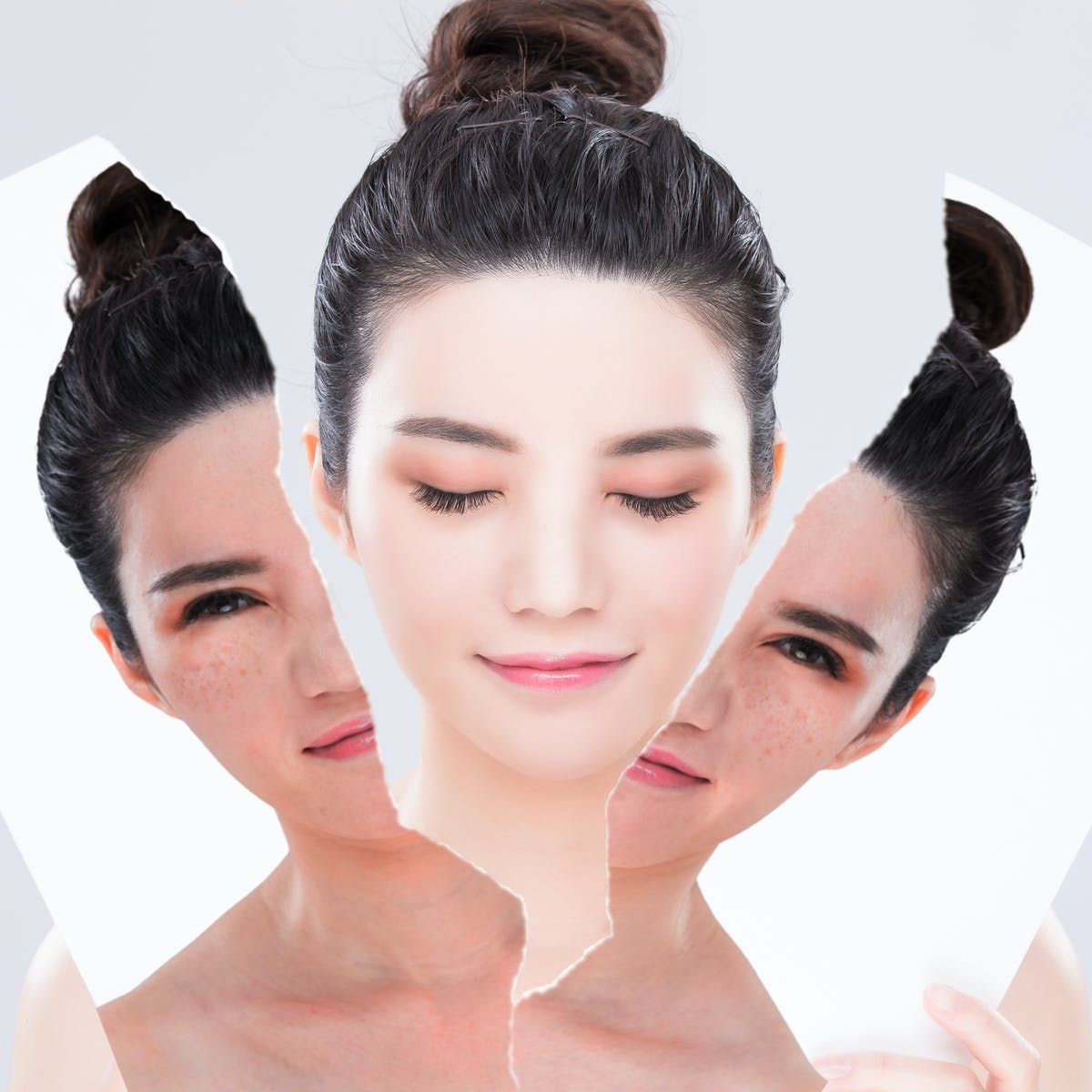 Various cosmetic treatments done for pigmentation disorders are described as below:
Q switched Nd: Yag laser treatment
Q Switched Laser is the latest technology to treat the stubborn areas of hyper-pigmentation like freckles, lentigines or resistant melasma along with an uneven skin tone .
It is a revolutionary service that uses a Q-Switched laser that is highly safe for Indian skin type to treat unwanted pigmentation on the skin. A Q -Switched laser typically has 2 wavelengths
in action which can target different depths of penetration , thereby acting on various different kinds of pigmentary lesions very specifically. It creates a beam of light that specifically targets the brown pigment or melanin present in the dark spots without having any effect on the surrounding skin. The pigment absorbs the laser energy and gets fragmented within the skin's tissues, thereby giving you a smoother and even skin tone. The laser can reach the deeper layers of the skin where products or peels etc do not reach. It usually takes few repeated sessions of the treatment to show effective results. A q switched laser usually comes with a little downtime of few days during which the skin might develop a little crusting which eventually gets better within 3 to 5 days.
Laser treatment when combined with our highly efficacious skin care products, lightens, stimulates and protects your skin, to help give you a smooth, flawless complexion that you've always desired.
PHOTOFACIAL
A photo facial means a facial done with light. It's the most modern cosmetic procedure wherein pulses of intense light are used to rejuvenate and refresh the skin, giving that nice glow, radiance, and refreshment to your dull, blotchy, and tired skin. It's a 30-minute procedure in which intense pulses of light are used to penetrate deep into the skin. This photo-rejuvenation then causes collagen and blood vessels below the epidermis to constrict, reducing redness and age lines. The procedure involves minimal or no discomfort, while the redness and swelling that sometimes occur after treatment disappear very shortly. Most benefits of a photo facial occur gradually in the weeks following treatment but few patients notice even an immediate fresh radiant skin which lasts for 1 or 2 weeks which makes it an ideal procedure to be taken right before any important occasion like a wedding or a party. The procedure can be taken occasionally for immediate radiance but for long-lasting results, one must take regular sessions at a gap of around 2 weeks each for at least 6 to 8 times which help cater to many medical conditions like an uneven skin tone, redness, blotchy skin, tanning, freckles, pigmentation, fine lines, and rosacea.
Candidates People who have blotchy, sun-damaged, or discolored skin, or whose skin is affected by open pores, freckles, or fine lines, may benefit from an IPL Photo facial. The procedure is very quick and involves no downtime, making it a convenient option for people with busy schedules. People with all kinds of skin tones can opt for this procedure without the risk of any side effects or skin damage.
It is also important for patients to have a realistic understanding of what the procedure can do. When performed on the right person, it effectively improves skin texture, eliminating discolorations, reducing pore size, and minimizing wrinkles and fine lines. If you have rosacea, a condition that causes blotchy redness in the face, you may also benefit from a photo facial. For more serious issues - heavy facial lines and severe acne scars, for example - patients may wish to consider more aggressive treatment, such as laser resurfacing
Since its a non-invasiveprocedure, it allows doctors to make cosmetic improvements quickly, conveniently, and with very little risk or discomfort.
What to Expect During procedure?
Before the procedure begins, your eyes will be covered with protective eyewear to prevent the bright flashes of light from affecting them. A cooling pack and gel are often applied to the treatment area, both to lubricate the handpiece and to help cool the epidermis during the treatment. Your dermatologist will now apply brief pulses of bright light to the skin through the handpiece. Depending on the size of the area being treated, the procedure may take anywhere from a few minutes to an hour.
During the photo facial procedure, you will feel a warm sensation like a light snap from a rubber band. The number of pulses you receive will depend on the size of the area being treated. Following the procedure, your skincare specialist may help you in icing down the treatment area to help soothe any discomfort from the procedure. This is often unnecessary, however, as photo facial treatment causes very little pain
Recovery Time
The recovery time from a photo facial procedure is often very short, as there is very little damage done to the skin during treatment. One can expect very mild erythema over the face lasting for half an hour to few hours which usually subsides on its own. The side effects of photo facial treatment dissipate within a few hours for many patients. For most of the patients, it's an office hour procedure wherein one can walk in and walk out without anybody even noticing that anything at all has been done with your skin

The most important things to remember following photofacial treatment are to avoid the sun for several days and to wear plenty of sunblock for at least two weeks. Intense pulsed light therapy can give you excellent results for a year or more, but you must take care to ensure your skin is protected for the first few weeks after treatment.
CARBON LASER FACIAL
A carbon laser facial is a non-ablative laser skin treatment that uses the conductive qualities of carbon to quickly and painlessly exfoliate, cleanse, clear, and tighten pores, brighten and even out skin tone and activate a deeply rejuvenating skin reaction that produces skin that is smooth, plump and radiant! A carbon laser is a revolutionary, non-invasive, painless skin rejuvenation procedure with virtually no downtime that helps refresh the appearance of aging and damaged skin. The laser carbon peel is a fast and painless procedure done to help improve the look of the skin.
It's used primarily by people with oily skin, acne, and enlarged or clogged pores. This treatment is also beneficial if you're starting to see the effects of sun damage to your skin.
It gently treats the top layer of skin, leaving an amazing glow with a vibrant, youthful complexion. It gently treats the top layer of skin, leaving an amazing glow with a vibrant, youthful complexion.
Also known as a Hollywood Peel, Black Doll Facial or Charcoal Facial, this gentle procedure is safe on all skin types. It is a great way to get a quick skin refresher without the longer downtime associated with other laser procedures. It evens out the skin tone, reducing appearance of pigment, fine lines, and acne scars.
How it works.
A thin layer of medical liquid carbon is first applied to your face, allowing it to penetrate deeply into your pores and let it dry. The carbon particles attach themselves to all the dirt, debris, dead skin cells, contaminants, and sebum that might be present beneath your skin surface
A beam of low intensity Q Switchd ND:YAG laser is passed across the surface of your skin.
Light from the laser is attracted to the carbon particles , which absorbs the light energy. The reaction causes a mini explosion. The explosion pushes the energy, in the form of heat, deep into the layers of the skin where elastin and collagen are activated and cells begin producing new cells and fibres. Meanwhile, on the surface of the skin, as the explosion occurs the carbon is vaporized along with any dirt, oil or dead skin cells. There's very little discomfort or pain. The sensation has been described as a mild tingling or very slight pinch.
Carbon Laser Facials can rejuvenate your skin by:
Improving the oil balance of the skin
Reducing open and blocked skin pores.
Reducing the signs of premature aging
Improving skin texture and radiance
Reducing fine lines and wrinkless
Stimulating collagen growth for firmer, plumper skin
Reducing oily skin or exfoliating dry skin
Erasing or fading yellow/brown pigmentation
What can you expect?
Your skin will feel immediately smoother and look instantly refreshed. Better still, there's zero downtime! You can return to your daily activities immediately following your treatment – your skin may appear slightly red but this should disappear within a few hours. We recommend you use a good medicated sunscreen and avoid abrasive exfoliates or other invasive skin treatments for a few days.
How long do results last?
It will depend on the condition of your skin, your skin type and your lifestyle.
You'll probably notice results after a single treatment. However, for long-term results, we recommend regular treatments – 4-6 treatments are optimal, spaced 2-4 weeks apart.
Will it hurt?
No! The treatment is gentle, non-invasive and painless. You'll probably hear a small pulse as we target the carbon particles in your pores with the laser. Our clients describe the feeling as warm or prickly but not painful.
The procedure. Laser carbon peel is a multi-part process that takes around 30 minutes from start to finish. For this reason, it is sometimes referred to as a lunchtime peel.
Here's what you can expect from a typical laser carbon peel:
Your doctor will spread a layer of liquid carbon onto your face. The carbon absorbs oil, dirt, and dead skin cells from deep within the pores.
You'll wait for about 10 minutes for the liquid carbon to dry.
After the carbon has dried, your doctor will give you eye shields to protect your eyes from the laser.
Your doctor will pass a laser, such as the Nd:YAG, over the skin on a low-energy setting. This heats up the carbon, binding it to the epidermis.
5. On a higher-energy setting, the laser will be used to fragment the liquid carbon into tiny particles.
A smoke evaporator attached to the laser will remove the carbon as well as the debris and impurities it contains.
Your skin therapist may also apply a hydrating moisturizer and sunscreen to your skin after treatment.
You should immediately see brighter, glowing skin and tighter pores.
If you have sensitive skin, you may experience a slight pinking or reddening of the skin. This usually lasts for one hour or less.
Do's and don'ts for laser carbon peel aftercare:
Treat your skin gently after getting a laser carbon peel by applying a good sunscreen and a moisturizer daily.
It's normal to see some flaking or experience dryness for a few days
Use sunscreen regularly with at least SPF 30+ for several days after treatment.
Don't use any products containing retinol for at least five days after treatment.
Do not exfoliate or use any abrasive or invasive skin treatments for at least one week.
Chemical peels.
This is by far the most effective and rewarding procedure in which repeated applications of a chemical solution, such as lactic acid, salicylic acid, glycolic acid, or retinoic acid are applied to your skin for a particular duration followed by neutralization by your doctor. Successive sessions of these treatments improve the tone, texture, pigmentary changes, and superficial acne scars to a remarkable extent. Chemical peel treatment is the most commonly done cosmetic procedure in any dermatology clinic.
The procedure can be taken during office hours without any downtime or significant risk factors.
At Dr. Naiya Bansal's skin and laser clinic, we offer the best and most result-oriented pigmentation treatments in Chandigarh which are customized to the need of every individual according to the medical state, skin type, complexion, and various other factors.
The treatment usually requires multiple sessions at a gap of 2 to 3 weeks each leading to a gradual improvement in the appearance of the skin. One can specifically opt for customized brightening and yellow peels which are also called party peels which help in immediate improvement in the brightness and radiance of your skin. These brightening and yellow peels help to reduce hyperpigmentation, melasma, and acne scars on the skin and it will immediately brighten the complexion of your skin. Lightning Peels are formulated for darker and combination skin types to give them safe and effective results.
The procedure can be taken during office hours without any downtime or significant risk factors.
The treatment usually requires multiple sessions at a gap of 2 to 3 weeks each leading to a gradual improvement in the appearance of the skin.
Chemical peels can be taken to improve the tone, texture and pigmentation on any area of the body be it face, neck, back , axillae, hands or even lips.
Chemical peels are used for following indications:
Treat pigmentation issues like melasma , freckles or sun spots.
Dull skin with an uneven skin tone or discolouration.
Acne spots and superficial acne scars.
Signs of ageing like fine lines and wrinkles.
Lip and under eye hyperpigmentation.
Few specific types of peels can treat active acne as well.
Post inflammatory hyperpigmentation
Anyone who is looking for rejuvenated , fresh and radiant skin can also opt for a chemical peel treatment.
Procedure
A chemical peel is the most commonly done procedure in any dermatology clinic.
It's a lunch time procedure which hardly takes 15 to 20 mins of time with little or no downtime as against the name where there is actually little or no skin peeling after most of the peels done these days.
Your doctor will ask you the history of topical applications on your skin before starting a peeling treatment. You might be suggested to discontinue all the retinoid based creams or exfoliants few days prior to the procedure.
The various steps of a chemical peel procedure are as follows:
Your therapist will cleanse your face thoroughly to remove any applications, male up or dirt on the skin surface.
After cleansing , your dermatologist might like to do a little microdermabrasion to remove the excess dead cells over your skin allowing for a better penetration and better radiance, but this step is completely subjective to your dermatologist's opinion and cannot be combined with every type of peel.
Your therapist will apply a layer of the chemical solution to your face which can vary in form to a cream based , gel based or lotion based.
In few peels like retinoid based peels or yellow peels, an activating serum is first applied which actually acts as an activator of the actual peeling agent.
Depending upon the type of peel used, the application time may vary from few mins to 15 mins. During this entire time, your skin is closely monitored by your doctor for any signs of redness, irritant reaction or adverse reaction.
After the desired time, your skin is cleansed again with water or a neutralizing agent to remove the peeling solution completely
A liberal amount of a bland emollient and a sunscreen is applied on the face after the procedure.
Post care after a chemical peel procedure
After a chemical peel, skin is temporarily more sensitive to the sun, so a broad spectrum sunscreen has to be applied once or twice every day.
Limit your time in the sun, especially between the hours of 10 a.m. and 2 p.m., and wear a wide-brimmed hat.
All kinds of unnecessary procedures like a face waxing, bleaching , make up applications or salon facials must be avoided for atleast a week after a chemical peel treatment.
What To Expect After a Chemical peel
Most of the modern day peels have negligible or no down time. A few peels like a retinoic acid based peels popularly known as the yellow peels can lead to mild flaking off of the superficial layer of the skin for 3 to 5 days during which you are supposed to take a good sunprotection.
A chemical peel treatment can be repeated every 2 to 3 weeks depending upon your skin concern and the type of peel chosen for you by your doctor.
An average of 5 to 6 sessions are most of the times needed to have an appreciable improvement in the skin tone and texture .
This Gold Infused Facial treatment helps to deliver a personalized cocktail of PRP, dermal fillers, and botox that will make your skin seriously glow. A gentle stamping method delivers antioxidants, moisturizing ingredients, and even Botox under the skin. This facial is made in such a way to suit all skin types and complexions. These can be used on fine and sensitive skin. It also stimulates the production of collagen, refines the texture of the skin, tightens the pores, and hydrates the skin.
Skin Polishing
Skin polishing refers to a method for enhancing skin composition, acne, spots, and fine lines around the skin. The skin becomes brighter as the dead cells are eliminated. It is a great method for reversing skin damage. Firstly, the face is cleaned thoroughly to make sure that it is free from any makeup or chemicals. Then the use of a microdermabrasion head is done many times around the face. Microdermabrasion is a very subtle and superficial exfoliation of the superficial epidermal layer and dead cells of the skin which is done with the help of a mechanical device. It leads to regeneration of the epidermis, declogging of the blocked pores, and removal of the collected dirt, debris, and sebum from the skin surface, thereby cleansing the skin, reducing the acne formation, and also aids in penetration of topical medication, thereby giving the fresher appearance and radiant glow to the face and clearer acne-free skin for a longer duration. The procedure itself is an office procedure that hardly takes 15 to 20 minutes and can be done at a frequency of once a week or fortnight depending upon the condition.Our highly dedicated doctors provide the best Pigmentation Treatments in Chandigarh to the patients and they get amazing results after treatment
Our highly-dedicated doctors provide best Pigmentation and Skin Brightening Treatment in Chandigarh to the patients and they get the amazing results after treatment.